Social commerce is no longer optional for your business.
With Jumper, you can directly sell your Amazon products everywhere your customers are - Messaging apps, Social feeds, Stories, Chat boxes, Blog posts, Websites.

No need to increase your ad spend or change your social media marketing strategy, Jumper enables your customers to complete the transaction right when and where they discover your products and have the impulse to buy.
0
Prior experience required
Experience it as a customer
Jumper is a Direct-to-Consumer commerce solution that enables brands to shorten the path to purchase and achieve higher conversions from their social media campaigns. It's an invisible solution that powers frictionless, conversation driven checkouts within social and messaging platforms .
Learn more

Amazon, the world's largest e-commerce platform. With Fulfillment by Amazon (FBA), your inventory is stored, packed and shipped by Amazon's fulfillment centers. You sell it, Amazon ships it.
Learn more
How it works
Using Jumper technology people can engage with your content on social via clicks, or commenting with pre-set hashtags on your social posts to trigger an instant message from your brand, which engages the customers in the moment and walks them through the purchase from selection to payment within the chat.
The world is your market, get started now.
Insanely effective

Merchants who use Jumper achieve incredible conversion rates of up to 68%!

Complete control

Your product inventory, shipping, taxes and orders are all directly managed with your Amazon store.

Your brand your way

Easily customize your customers experience across all touch points to maintain your brand's tone of voice.

Build a relationship with your customer

Re-engage and upsell to customers with an array of growth tools – cart recovery, broadcasts, retargeting pixels, exclusive offers, loyalty and influencer sales.
Start selling with Jumper in 3 simple steps!
Connect your Amazon account to Jumper
Authorize Jumper to access your store with your Amazon credentials. All your product information, listings data, product images, fulfilment data, can now be imported into Jumper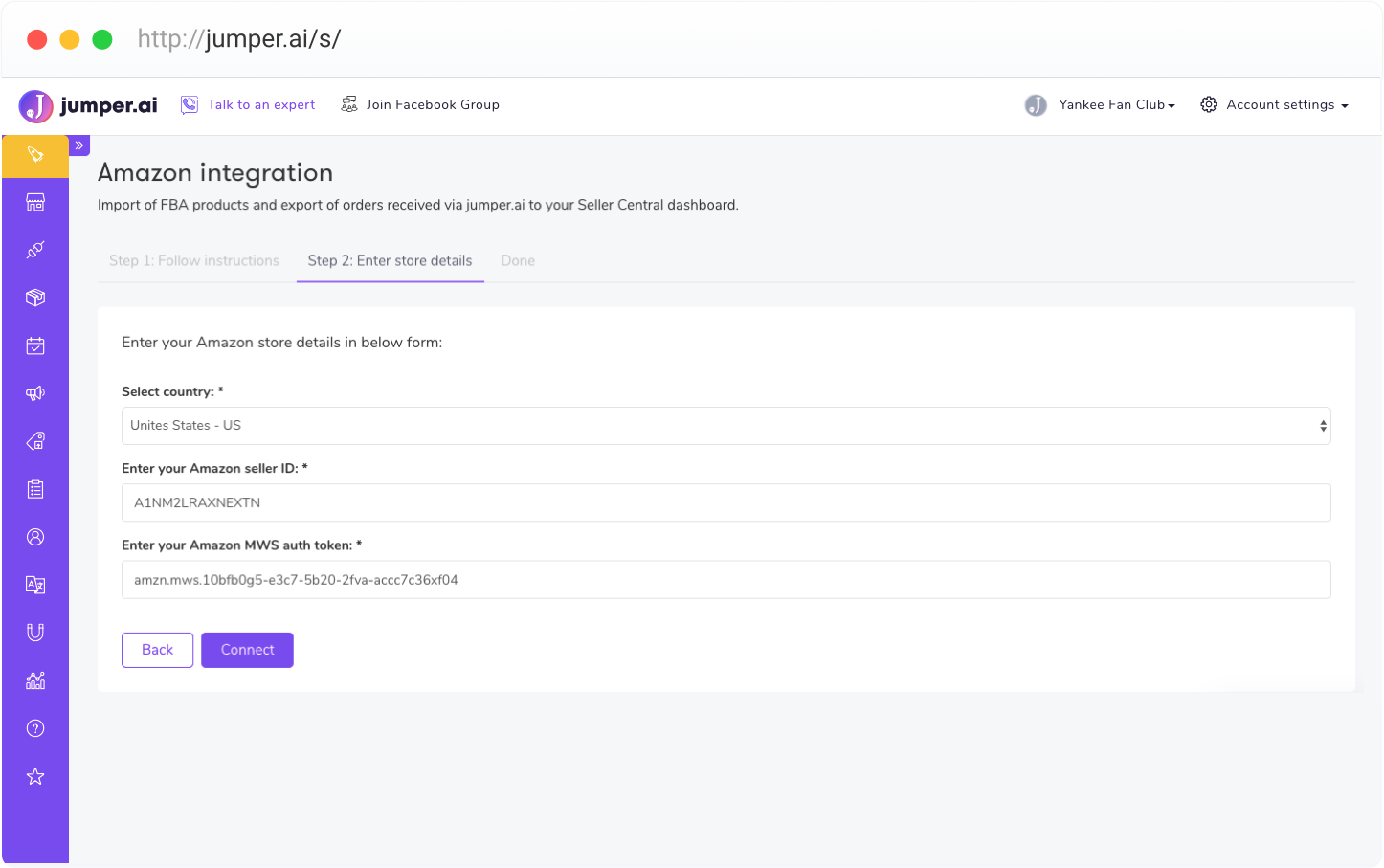 Import your products and assign #hashtags
Assign hashtags to each product to make the items shoppable on Facebook and Messenger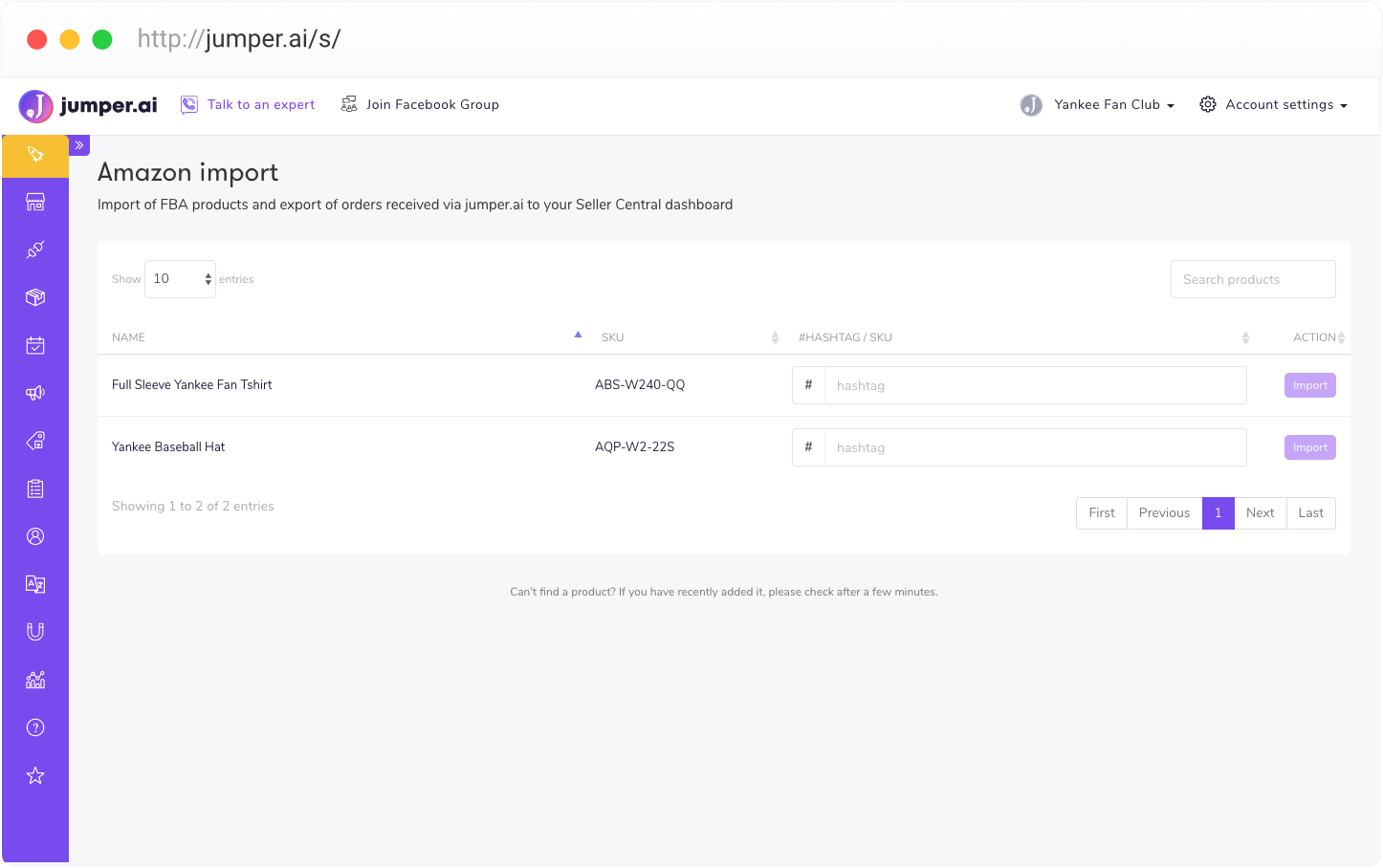 Connect Facebook Page
Select which Facebook page you want to use to sell your products and connect it.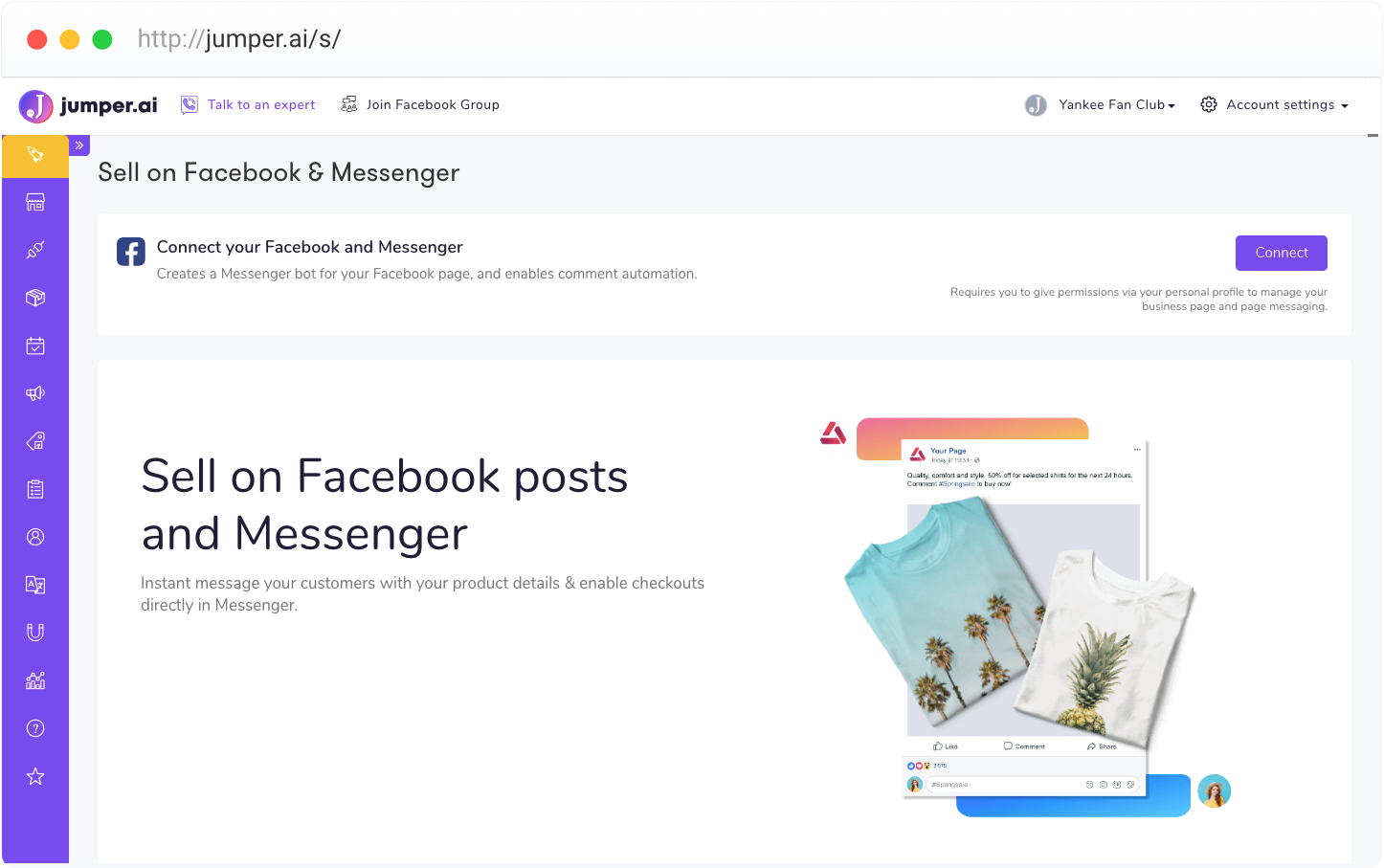 Share your product and watch the magic happen 😁
Whenever your audience shows intent by clicking, commenting, or swiping on a post they initiate the checkout. They would be able to complete the purchase within chat through a secure, tokenized payment process.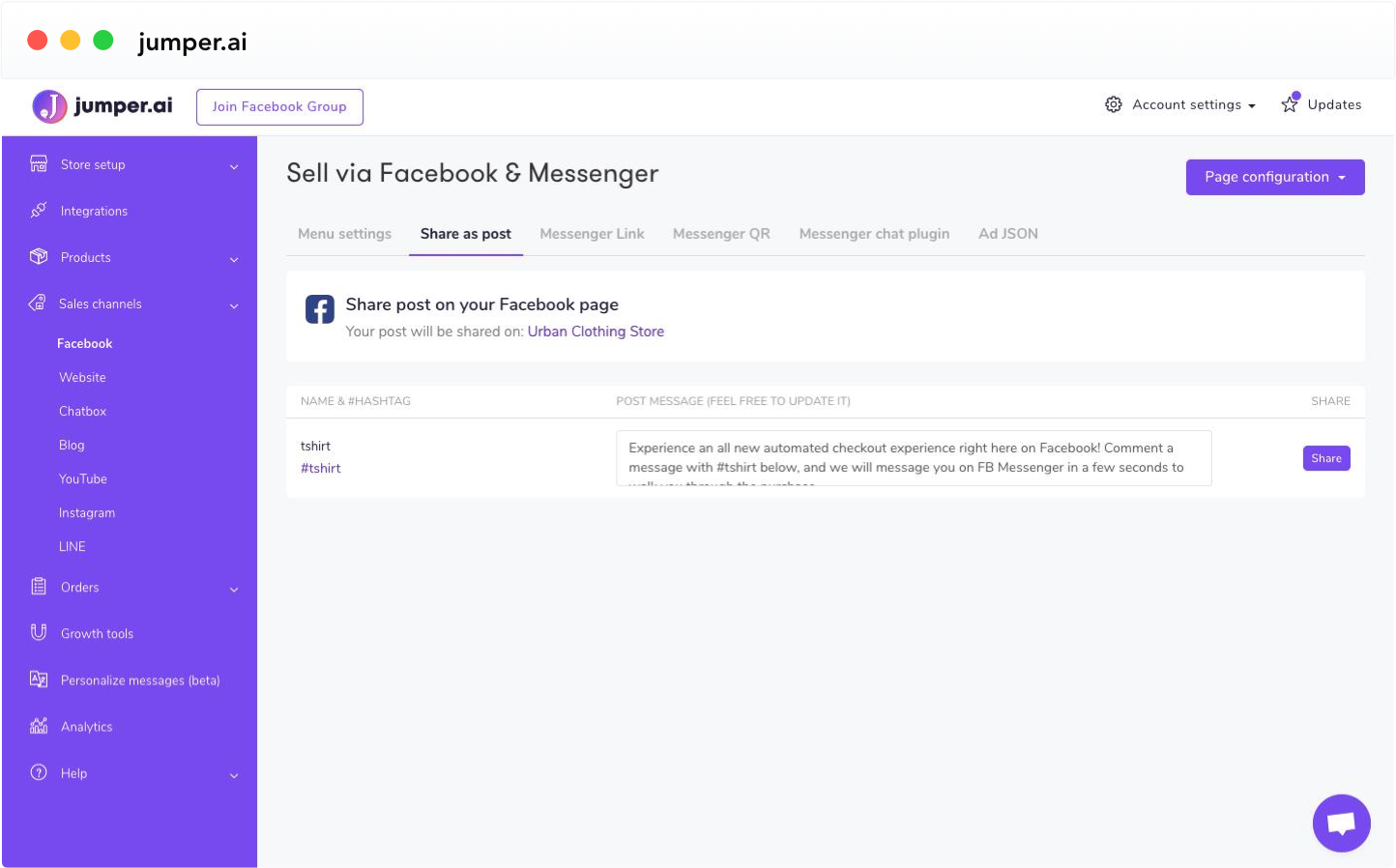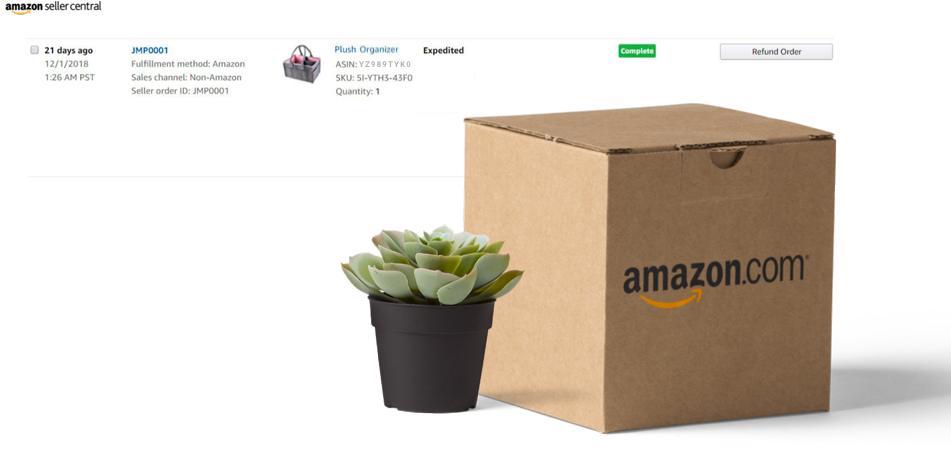 Amazon will fulfill the product shipping as usual. Jumper would also remembers your customers' details and auto-fills it to enable one-click repeat purchases.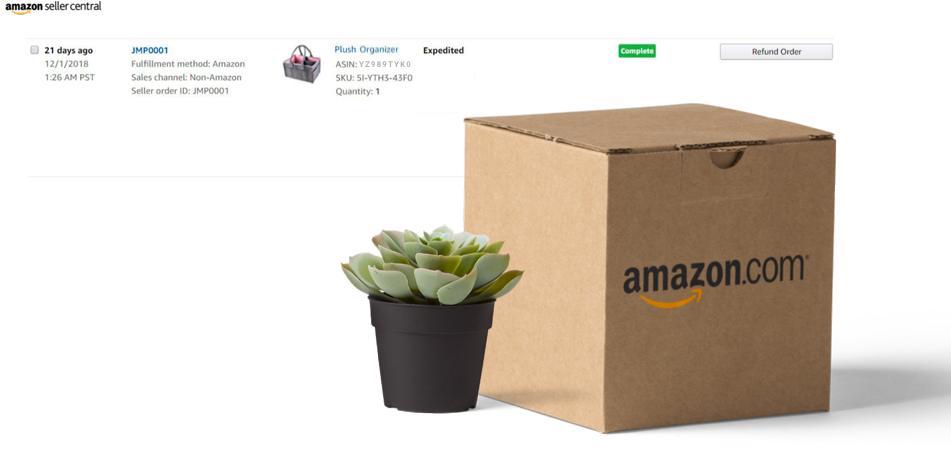 Amazon will fulfill the product shipping as usual. Jumper would also remembers your customers' details and auto-fills it to enable one-click repeat purchases.
What businesses using Amazon + Jumper have to say
I've been using Jumper with my Amazon FBA account for a few weeks and am really excited about the results I've been getting so far. It only took about 5-10 minutes from creating the account to posting a first product on my Facebook page and making a sale. I normally use the basic landing page strategy in combination with Facebook ads but being able to sell right on my Facebook page converts a lot better. Thanks guys for making selling on social media so easy.
Brandon Ruffini
"I could not find any Amazon FBA tools out there to leverage my social followers and turn them into sales. I was looking to build my own solution when some in a Facebook group told me about Jumper. It was like a god were shining on me and they reveal Jumper to me. Thank you for creating such an amazing product. A lifetime user."
Mary Stone
Since I started using Jumper 4-5 weeks ago, I already doubled my Amazon sales from Facebook. I've also received overwhelmingly positive feedback from customers saying that they are excited to buy my products through Facebook Messenger rather than being sent off to a website. Also, a huge thanks to the team for taking my feedback into consideration and actually launching a few new features I've requested. You guys rock!
Nick Abrams
I initially hesitated to sign up with Jumper cause I expected the setup to be quite complex. Loved the idea of selling my products through shoppable posts though so decided to go for it anyway. Awesome decision! Ever since then, my orders literally just keep rolling in! I was surprised that the entire setup only took a few clicks and I was up and selling in under 10 minutes. I also messaged their live chat for support and Anna was amazing. She walked me through all the setup steps, shared some best practices and use cases and couldn't have been more helpful.
Amanda Woychick
As an Amazon FBA seller, we only have a limited number of product SKUs. Needing a full-blown website was a bit overkill for us, which is why we actively looked for alternative sales channels to tap into. Thankfully, a friend recommended Jumper! I love how easy it is to connect with different social platforms (literally just a click) and sell our products directly there. We immediately saw our sales increase without any additional cost so needless to say, we're excited!
Devin Green
Jumper FAQs for Amazon
What is Jumper?

Jumper is an AI powered platform enabling brands to capitalize on social media to create engaging customer experiences and also turn it into a point of sale, in an instant. No websites to build, no apps to download. Head to our main landing to learn more https://www.jumper.ai

How much does it cost to use Jumper?

Jumper is totally free to use, no monthly commitments. After the first 10 sales, Jumper takes a 1.5% success fee per sale.

How to connect with the sales channels?

You can connect the relevant sales channels from the Integrations tab in your dashboard on Jumper. It's a simple one click connect :)

How do I import my products to Jumper?

Once your Amazon FBA store is connect to Jumper, your products will be displayed on the dashboard. Sync the products by selecting them and picking the appropriate hashtag. That easy :)

How can sell my Amazon product once imported to Jumper?

After importing your product, simply post on Facebook as usual with the CTA of your product hashtag in the description. You can also share direct from Jumpers dashboard. These posts have a clear CTA and can be shared from your page to your profile, groups etc.

What happens we my Amazon products sell?

On a successful sale, your order is immediately passed to your Amazon account with relevant details for dispatch.

When do I get the money when Jumper sell one of my products?

Depending on the payment method you've enabled, the money hits your bank on a rolling basis of 7 days usually. Best to refer to your payment gateway on payout times.

How do I ship my Amazon customer orders?

The best part about Jumper + Amazon is it works with Amazon FBA as the shipping and logistics is handled direct and automatically by Amazon.

How do people buy my Amazon products on Facebook?

People can buy your products right from the post by either commenting with the product hashtag, clicking on your post/ad or clicking a link that'll trigger Messenger then and there. Here's an example.

How do people buy my Amazon products on Instagram?

On Instagram, this depends if you run an Ad with which people can checkout on Messenger or having a link in the bio with the product or store.

How many of my Amazon product can I sell on Jumper?

With have an ethical limit of 200 concurrent products to be imported on Jumper. You can swap products and sell as many as you like.
Do I need Shopify to see my Amazon products with Jumper?

Not at all, defeats the purpose of everywhere commerce, isn't it?

Can I sell my products on blogs, websites, landing pages, clickfunnels with Jumper?

Absolutely you can. Have you seen our blog & chatbox integration? You can experience it here.

How do my customers get alerts when their item is shipped?

Your customers will get the usual Amazon alerts on e-mail, SMS. Alternatively you could also send them a tracking link from the Orders section on the dashboard.

How do I setup my Amazon FBA account with Jumper?

In a few simple steps you'll be ready to rock and roll. We've put together a complete walkthrough. See it here

How do I issue refunds with Jumper for my Amazon orders?

For refunds, you need to login to your payment gateways dashboard and do the needful.

How can I edit my Amazon product listing on Jumper?

At this moment, Jumper syncs direct with your Amazon product listing and fetches it as is - editing will cause issues upon re-sync.

How do I manage my FBA inventory with Jumper?

Your inventory with your Amazon FBA account is managed and checked on in run-time making sure you don't have to manage too many things.