Create and sell
print-on-demand merchandise through Facebook Messenger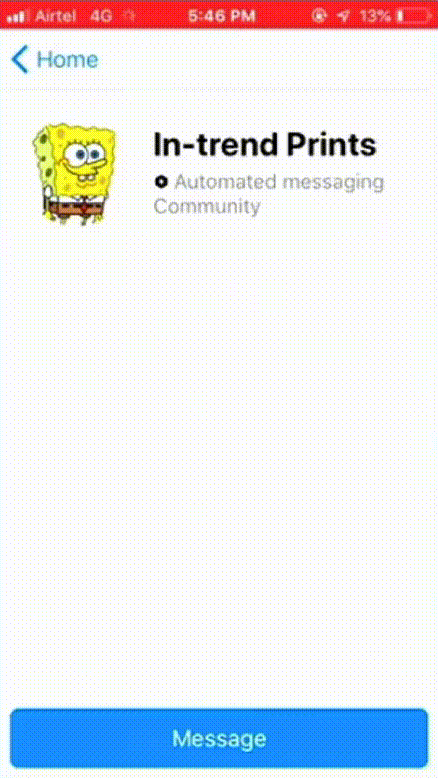 Set up in minutes, sell in seconds
Sell your print-on-demand products on social media, websites, ads, blogs and the web.
The Printful + Facebook Messenger integration by Jumper.ai allows you to create and sell merchandise on Messenger (and other social networks) with close to no friction. It's a plug and play integration, which directly generates an automated checkout bot flow with cart and payments. When an order is placed, the products are automatically fulfilled by Printful making your life like sipping 🍹 on the 🏖 .
0
Prior experience required
Experience it as a customer
Create shoppable posts for frictionless sales on social media With Jumper.ai, customers buy without leaving the social platform, raising conversion rates with an automated sales process.
Learn more

Sell quality print and embroidery goods risk-free. Printful handles inventory, production and shipping. The catalog includes products from t-shirts, leggings, and swimwear to hats, and backpacks.
Learn more
Create a Printful account
If you don't have a Printful account yet, head over to their website and create a new one.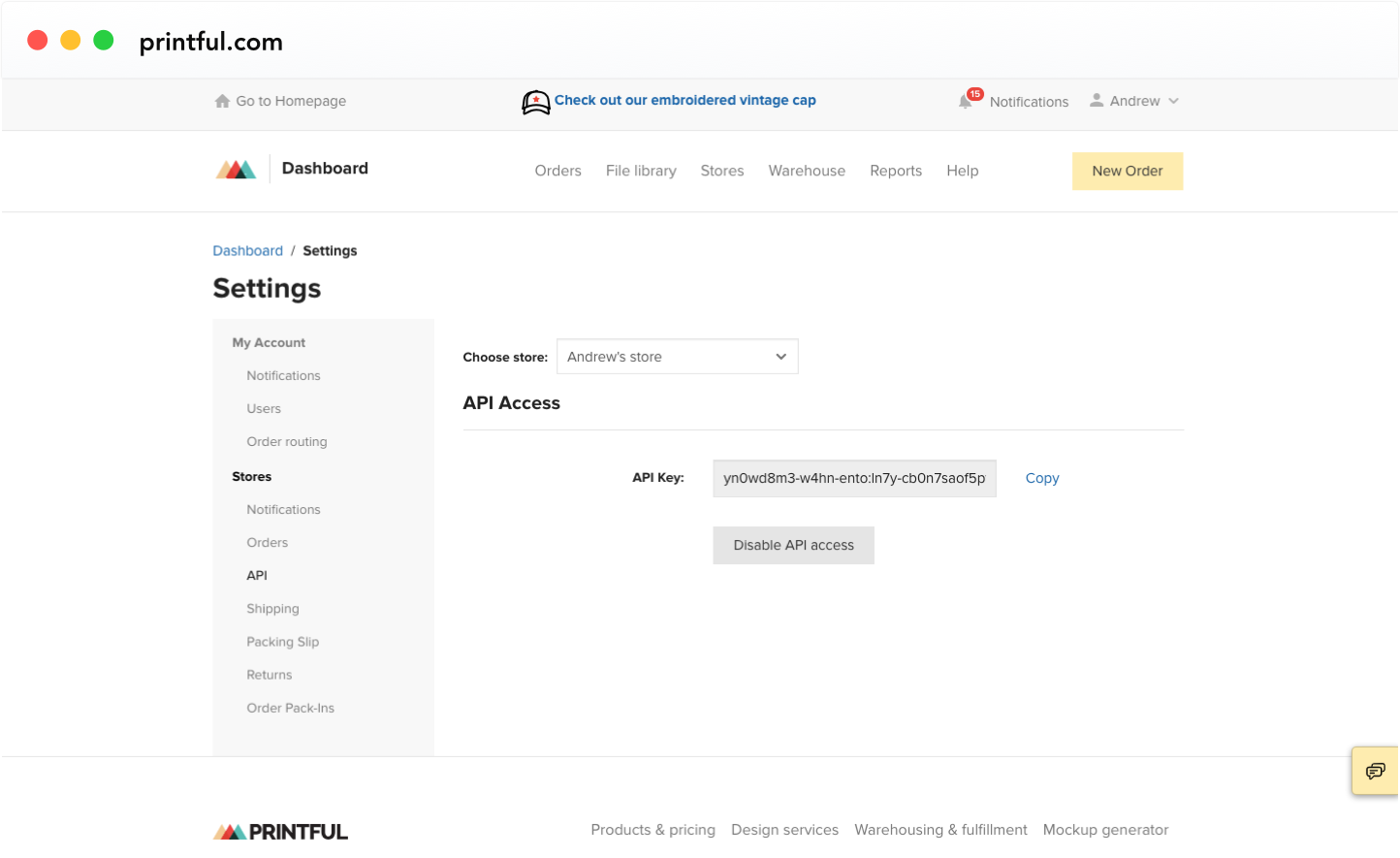 Connect your Printful account to Jumper
Enable API access in your Printful account and copy your API key into your Jumper account.
Import your products and assign #hashtags
Assign hashtags to each product to make the items shoppable on Facebook and Messenger.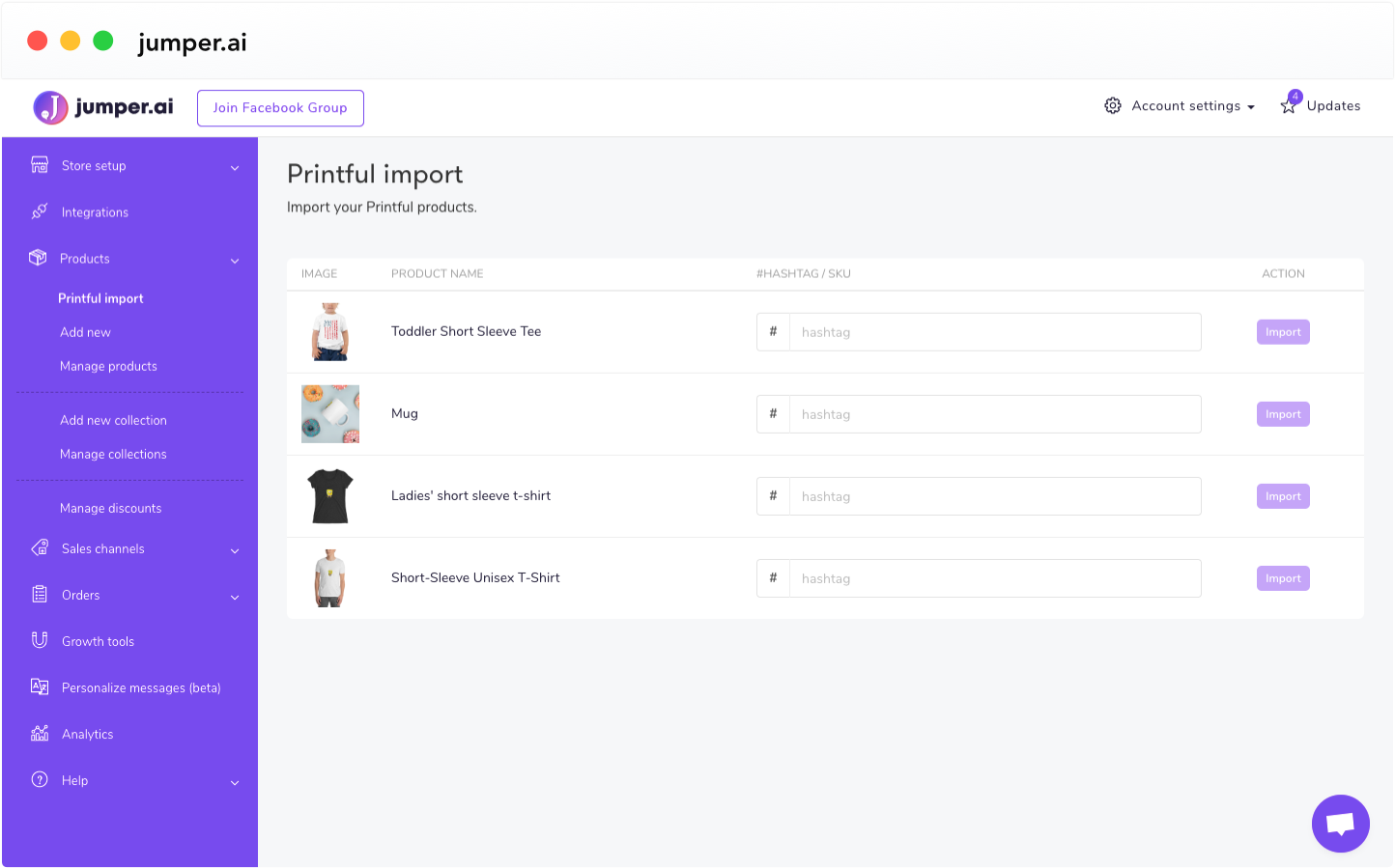 Connect Facebook Page
Select which Facebook page you want to use to sell your products and connect it.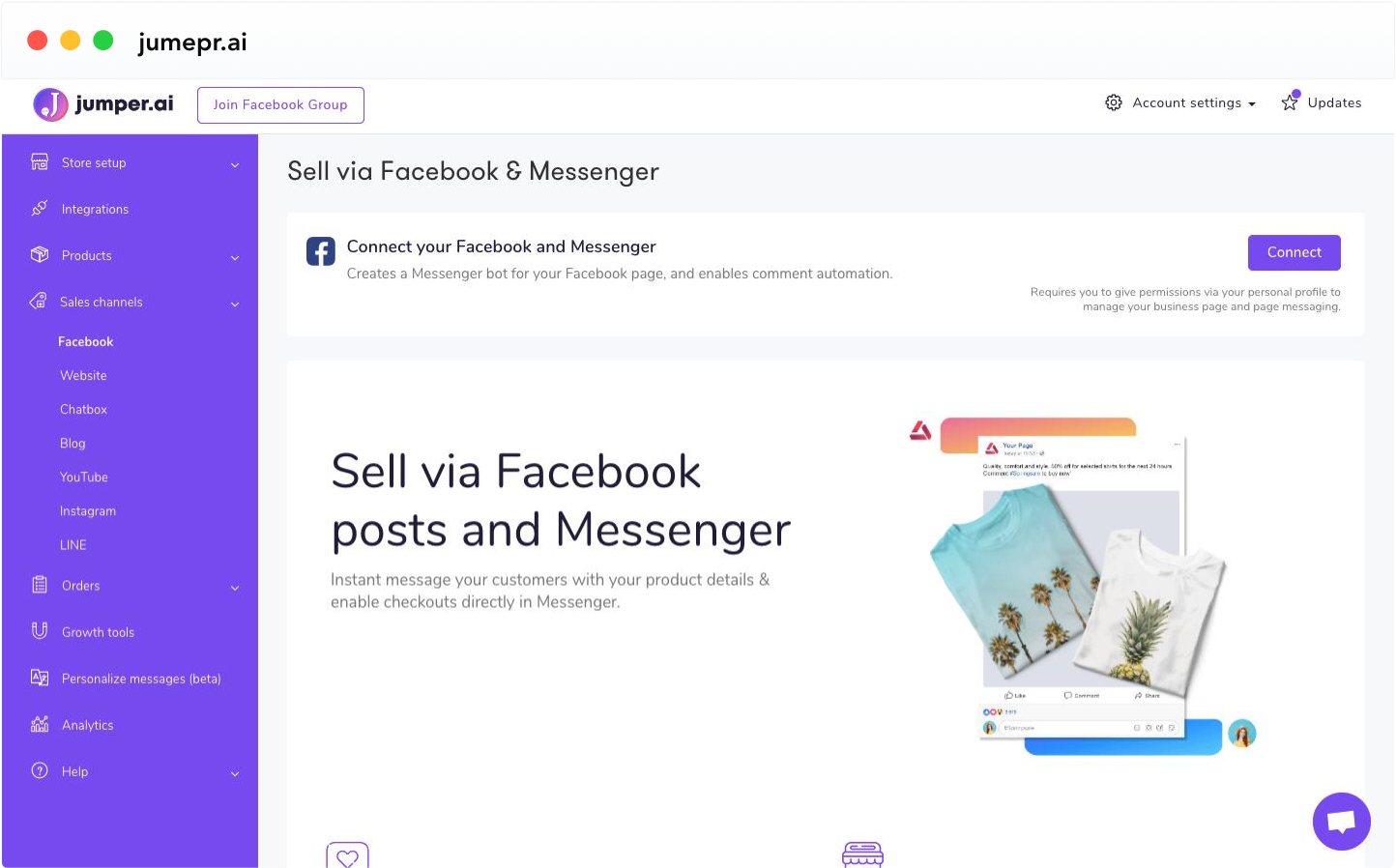 Share your product on Facebook and watch the magic happen 😁
Your customers will be able to buy by simply commenting with the product hashtag.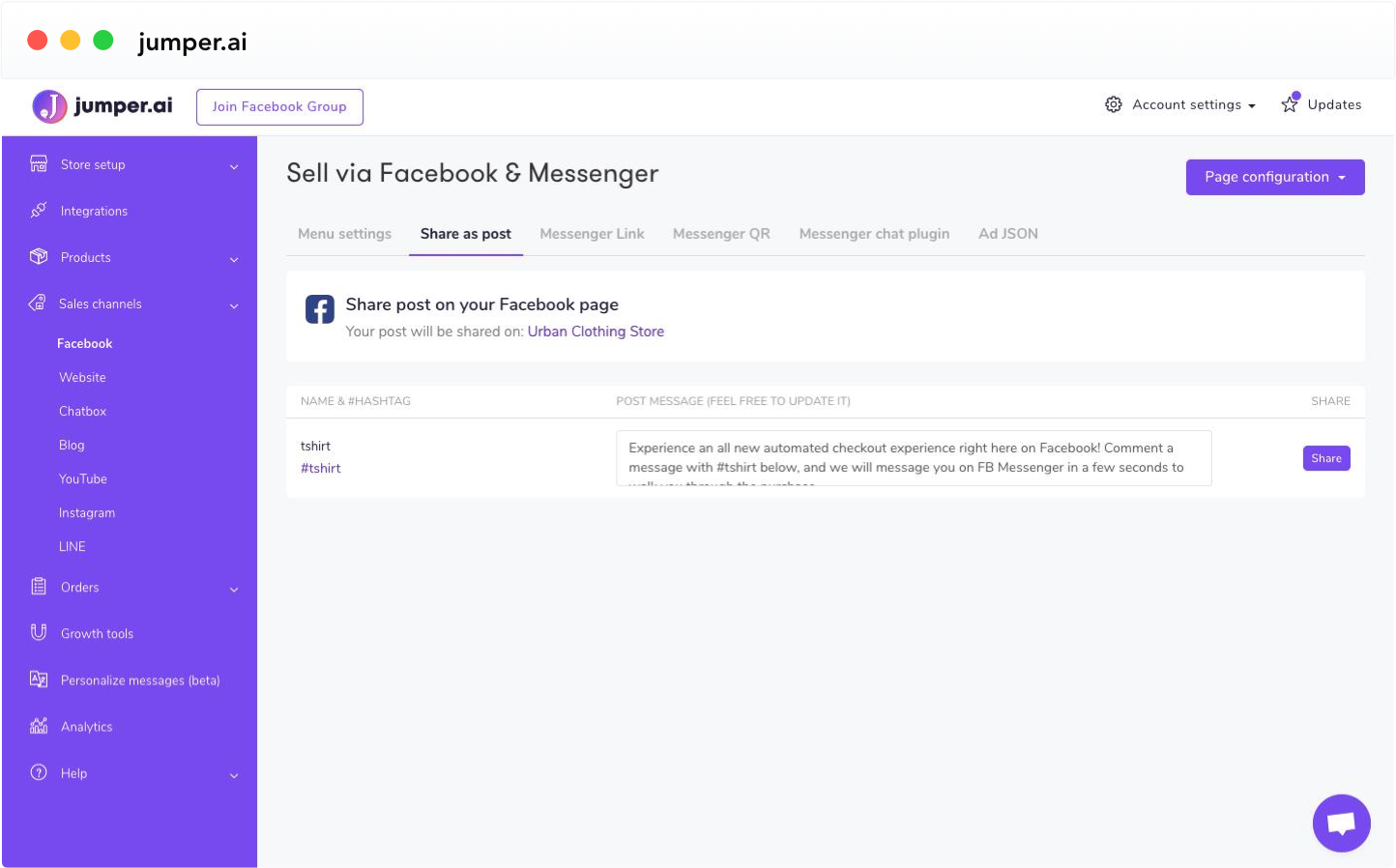 What businesses using Printful + Jumper have to say
"I can't believe how easy and fast it was to set up a print-on-demand business from scratch and sell directly on Facebook. It only took 2 hours from setup to making my first sale."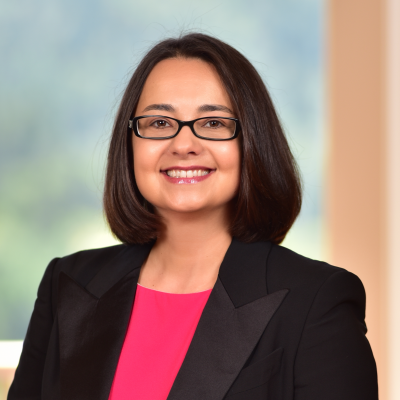 Josie
"I've been selling print-on-demand products online for years but have never seen conversion rates like this. By selling directly on Facebook, my conversion rates went up to 50-60%. This is a total game changer."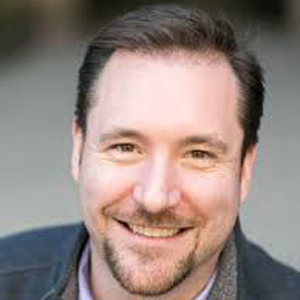 Ron
Jumper FAQ's for Printful
What is Jumper.ai?

Jumper.ai is an AI powered platform enabling brands to capitalize on social media to create engaging customer experiences and also turn it into a point of sale, in an instant. No websites to build, no apps to download. Experience Jumper? Head straight to Jumpers website. https://www.jumper.ai

What is the pricing to use Jumper.ai?

Jumper.ai is totally free to use, no monthly commitments. After the first 10 sales, Jumper takes a 1.5% success fee per sale.

How to connect with the sales channels?

You can connect the relevant sales channels from the Integrations tab in your dashboard on Jumper. It's a simple one click connect :)

How to get started with printful and Jumper in less than 5 minutes?

This is fairly simple and straight-forward, if you already have a printful account, follow our guide and paste the API key in Jumper. That's it :)

If you don't have a printful account, you need to create one, which is totally free. Follow the steps to get your API key and put it in Jumper.

Is this for real? I don't need a website?

Absolutely correct.

Can Jumper and printful be customised to my language?

Of course, you can customise the tone, language at any time. You can have cycling replies too. Take it for spin, its simply magical.

Can I see a video demo?

Indeed, here's the link to Jumpers Youtube channel for awesome walkthroughs. https://www.youtube.com/channel/UC1sKFEL2uvycMwk7-KOUC7w/featured

Can I upload my design into Jumper?

Yes, of course. Use printful's mockup generator to visualise the products with your design!
Can I track my Printful sales?

Yes, you can track all your sales on Printfuls dashboard and also on Jumpers dashboard.

Are there sales analytics of my Printful orders?

Yes!

Do I need a Printful account?

Yes, you do need a printful account. Get one here, its totally free :)

Will shipping notification be sent to buyers?

Yes, both on e-mail and Messenger.

How do people buy my products with Jumper on Facebook?

There's multiple ways to do that. Jumper works with keywords on comments, #hashtag on comments, shortlinks to Messenger, if you run ads, it works smooth even on ad-clicks. This comes in handy when you run the ads simultaneously on FB and IG. Feel free to talk to Jumpers customer support for ideas. You could join their Facebook group here.

Can I add our own product images in addition to the Printful ones?

Yes.

How can I sell my Printful products on Instagram with Jumper?

There's 2 ways to this, using a link in bio, experience it here on your mobile device. Also, with ads it works on clicks. Swipe up on stories works really well too.